I
'm going to kick it old school again here, I'm going back 5 years with this post. (I guess I should have had a blog a long, long time ago.)

My husband and I were expecting our first child, Bug, and the room we had planned for the nursery was rather small, as was our budget. It didn't help that I had my eye, and my heart set on a very expensive crib (more on that in the future.) In order to fit everything into the room, and into our budget we decided to skip the changing table by building one ourselves into the closet. (I seem to have a thing for transforming closets.)

It so happened that the closet in Bug's room was just about the perfect width for a changing table. We knew we weren't going to miss the closet, what baby actually needs a full closet height of storage? Certainly not any baby to be born from my 5' 8" husband. So we turned the closet into what became the most functioning part of the room. We had a changing station, hanging storage, baskets for laundry, toys, blankets and other assorted baby essentials. PLUS diapers, wipes and everything you could need to change a baby right at arms reach.

Here is what we came up with: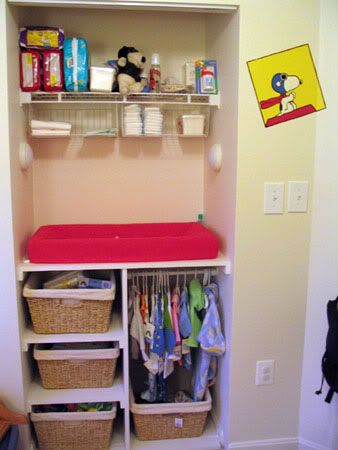 This project remains one of my favorite of all time. Once again, we hit Home Depot for some simple MDF, 1"x2" poplar, L brackets, some closet accessories and white paint. (In hind sight, I would have painted the walls some other color than white, but I was more focused on the snoopy theme, more on that some other time.) The baskets came from Target.
I wish I still had the plans to share with you, but I'll do my best to answer any questions that aren't answered by the photo above.
And as a bonus, long after we left our town house and our daughter out grew the need for a changing station, we still use the baskets all over the house. The total cost of the project, including the baskets was less than $100. Can't find too many changing tables for that price!