Being that my creativity is quite diverse I have a lot of creative tools. Over the years I've tried a bit of everything, and in the process I've bought a bit of everything. In addition to being creative, I'm also a pack rat. So for years I had bins and bins of stuff to work with. And just getting started on a project was a project itself as I rummaged through bins and boxes to find the right things I needed to work with.
I find that my creativity thrives best when it is well organized. Many people find "creativity" and "organization" to be exclusive concepts. For me, organization is the foundation that allows my creativity to thrive. It provides order to an otherwise rather chaotic process and allows me to focus my creative energy without the clutter that would otherwise get in the way.
So, we carved out a space for me to store my materials and work on my projects. Sadly, there is no room available in the house for an official "studio." Maybe someday I'll claim the playroom after the kids are too old for it, but for now, I've taken over a closet in the playroom. Here is what we've done...
Before: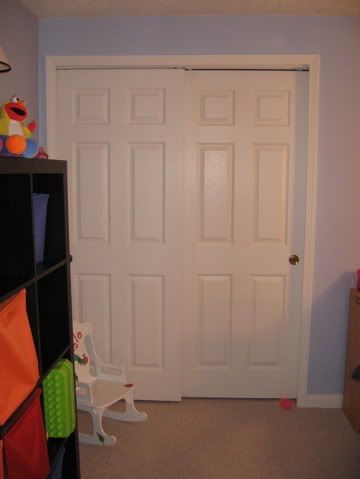 After: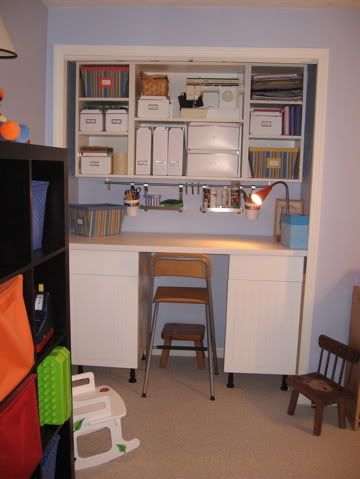 There is also a row of boxes on top of the selves with more supplies that you can't see pictured, things that I use less often. So now, everything has a place to be. I've got bins for card making supplies, scrap booking stuff, beading, sewing, stamping, painting, all things adhesive and more.
There is still some finish work to do, but that hasn't stopped me from using my little creative closet.