Sewing was one of my earliest forms of creativity. I helped my mom make clothes for my cabbage patch doll on my grandmother's antique singer sewing machine from about the time I was in the 3rd or 4th grade. It had one stitch - straight, but my goodness it was a beautiful work of art - almost a sculpture, a lot like this: (though I think ours was even older than this one)
In Jr high I was making toss pillows and window treatments for my room. Going to a girl friends house often consisted of turning her mothers scraps of fabric into doll sleeping bags and other things.
Over the years I've made window treatments, pillows and bags (like the one picture below) with a slightly more modern singer, it had 5 stitches.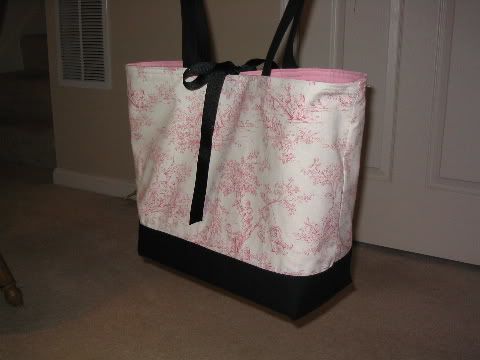 This past weekend I decided to enter into the world of kids clothes by making these really simple dresses that a girlfriend had done. (You can find out here: http://www.lovetosew.com/tshirtdress.htm). While working on the dresses (which I'll post eventually) I came to realize that my rather antiquated 5 stitch singer had to go. I treated myself to this:
Its the Brother 50 Stitch Computerized Sewing Machine (Limited Edition Project Runway) and I LOVE IT LOVE IT LOVE IT. Going from about 10 years or so with 1 stitch, then 10 years with 5 stitches, I feel absolutely spoiled with 50. Now, I'm not a professional seamstress, or anything even close - I'm a weekend crafter and and this is the perfect machine for me. It was under $150, available locally and so far it is doing a wonderful job. I completed 3 dresses and am half way through a 4th for my daughter in just over a day of sewing.