The stars in my
son's nursery
are by far one of the favorite design details I've ever done.
They were inspired by the stars found in the prints by Kimbery Grant.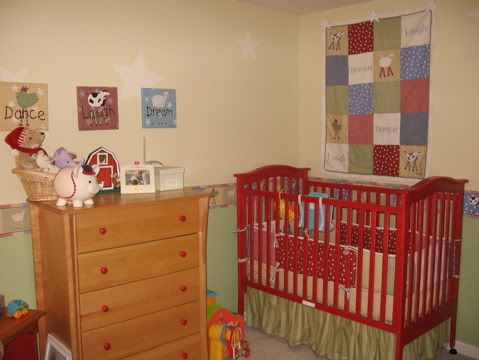 Here is how we did it...

First we just started with the simple painted room, beige on top, green on the bottom and a traditional wall paper boarder.

Then I created a star on my computer and printed it out. I could only print 8.5"x11" so I enlarged it on a copier up to 11x17 so I could have 2 sizes of stars, one small, one large. I cut them out and used them to create an outline with painters tape on the wall.
Then I mixed a bit of the beige from the walls with white paint that we just had laying around from who knows what other project. About 1 part of each.

I simply painted the stars with the lightened paint and removed the painters tape.

One of the details that I think really helps this work was allowing the stars to but up into the windows and up onto the ceiling.
A few more finished pictures... Because I can't resist.