When we were pregnant with our daughter, we didn't know we were pregnant with a daughter... we waited to find out if our "Bug" was a boy or a girl 'till her arrival. Having had an amnio, they knew with 100% certainty what we were having, but we wanted to wait.
Which meant a lot of the big things we bought prior to delivery which meant we had to go pretty neutral with a lot of things, including the diaper bag.
I wanted to run out and get a girly diaper bag right away after she was born but we also needed girly clothes and those took priority given that we had a perfectly good, perfectly boring diaper bag.
Then came the wedding reception for my Mother-in-law and new Step-Father-in-Law when Bug was just about 5 or 6 months old. Not only did I want a girly diaper bag, but I wanted a fancy diaper bag. So I made this: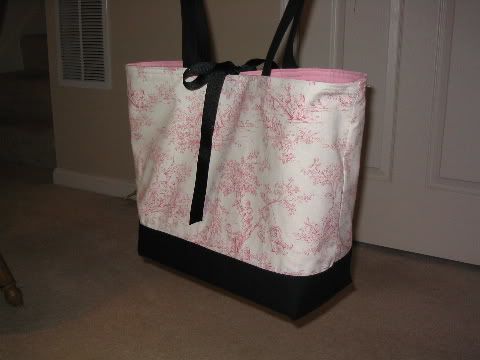 This goes back before the days of my blog so I don't have step by step photos... But to this day it is still one of my favorite sewing projects ever. And though we don't need a fancy-girly diaper bag anymore. I can't part with it.