Toys. We've got a million toys. Perhaps a billion.
But we don't like the house looking like we've got a quite that many and have found some pretty creative toy storage solutions.
1st, in the playroom: The Ikea shelf unit known throughout the world. We've got it too. Only we didn't use the bins and boxes that they have at Ikea. We went with a couple of different solutions from Land of Nod, I was trilled to find such perfect bins in the exact colors we wanted.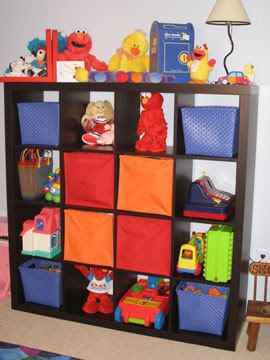 Also in the playroom we've got two sets of the ever popular bins found at Target, you can see one of the sets pictured here on the left as well as the classic toy box.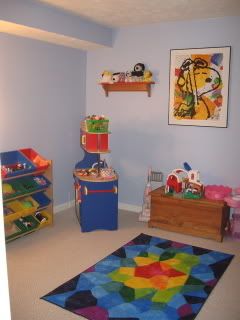 What I like about our solutions - is that they are just that, solutionS. I don't think there is a one size fits all solution to storage. There are some things that won't work in a bin or a box, but they'll work on a shelf. And some things that you just plain don't want seen and can put in the toy box.
And what we love about the bins, is the majority of the toys can live in the play room, but at any given point in time, the kids can grab a bin and take it to anyplace in the house that they want to be.
(I need to update my pictures of the playroom, we don't even have that kitchen anymore...)
But of course, our toys aren't limited to the play room. We also have a "healthy" collection in the family room on the main level of our house. And for this, we turned to Ikea and Land of Nod again...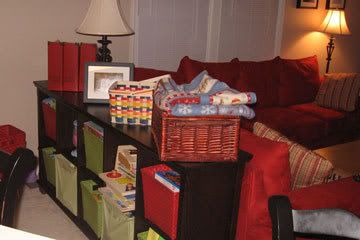 The toys are there for the kids, but in a way that we can live with. The colors that match our space and our decor. I love using this piece a a HUGE sofa table. It really has the presence and weight needed to balance out our large red sectional.

Sigh.... Our large red section. One of my other favorite pieces of furniture of all time... But that is another post.