This is another project that I'm afraid I don't have step by step instructions for, but I can walk you through it pretty easily.
I made these flower canvas pieces for my
daughters room
.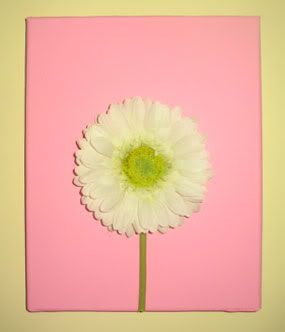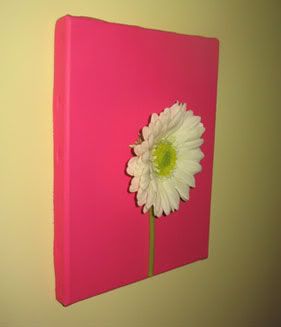 These were insanely easy...

I just purchased 2 faux gerber daisies, 2 canvases and 2 colors of pink.

Painted each of the canvases. (Am I spelling that right? I can't spell and that doesn't feel right to me... but then again, I can't spell so what do I know.)

Cut the stem off the flower.

Cut an "x" in the center of the canvas. And then hot glued the flower to the canvas pushing the back of the flower through the canvas to allow it to sit more flush with the canvas.

Then I glued the stem onto the canvas and that was it. You could do it with any flower you want, any color and any other embellishment. At some point, I might like to go back and wrap the edge of the canvas with a piece of ribbon, or paint it with a complimenting color...

Or I just might leave them alone.

You can see them here on top of her my daughter's quilt shelf.